Love Letter Demolition Performance, 2010
Ladder, Sawzall, Louboutin stilettos, fishnets, lipstick, and silk dress
The demolition of the site-specific piece was the closing event of the solo exhibition Notyetness at bitforms gallery. The demolition was performed for the cameras, to exist publically as documentation.
Love Letter Demolition Performance, 2010
Ladder, Sawzall, Louboutin stilettos, fishnets, lipstick, and silk dress
The demolition of the site-specific piece was the closing event of the solo exhibition Notyetness at bitforms gallery. The demolition was performed for the cameras, to exist publically as documentation.
Trigger Words Performance, 2010
8 participants
Trigger Words took place during the exhibition "HOW TO DO THINGS WITH WORDS, An Exhibition of Radical Speech Acts," curated by Melanie Crean at Parsons The New School for Design.
The performance followed a loose score, collaboratively conceived and translated by participants in eight languages. The participants taught each other how to pronounce the word in the respective languages. The calling out of each word sequence was matched with a group formation.
Score Sample
Start at window with "rape" in front of the window facing the street
Ones - Hebrew
Violar - Spanish
Najisi - Swahili
Ighteesab - Arabic
Khom Khuen - Thai
Seong Po Kaeng - Korean
Rape - English
American Sign Language
Feedback from participants:
Ziggy: "I was nervous at first since I hadn't been in town for rehearsal, and wasn't sure how the whole thing was going to happen, and I'm pretty shy being the center of attention. I would say I got the idea around the third word. I liked that the audience was interactive and loved taking suggestions from them. Certain movements didn't really do it for me, for example walking around the room shouting "whore", but I did like how we positioned ourselves for "king" and really liked the group hug for "aids". In future I would say we should make sure the movement/positioning correlates as much as possible to the word in a way that gets it across to the most number of people. After we were finished, I thought of two more words we could do next time, so my creativity was definitely flowing. I was definitely more comfortable. All in all a great experience, Im glad I made the time to participate. It was very interesting to see how things can be so different (for example "king" in Thailand or Cuba or even "society" from one Middle Eastern country to another) or similar to the rest of the world. Excellent project!!"
Rose: "First of all, it was awesome meeting all of you! am glad I participated in this. I think this whole experience has given me more awareness to words , so many times we speak without ever thinking of how our words are affecting the people around us. I really liked how the audience participated, somehow I didn't expect them to be that eager to participate. I sort of wish we choreographed our movements a bit more, if we had an order that we had agreed upon earlier, that way the whole performance would have been more powerful. To Yael and Lauren - Thank you so much for planning this and for letting us participate. It was absolutely great to work with this team!"
Aimee: "I thought I would be more shy and awkward during the performance, but I was not. I guess it was because we started the first word by facing outside and I didn't have to make an eye contact to the audiences. That's one good thing. :) I also like the discussion after the performance was over. I think it was the perfect conclusion of what we all just did in the room. However, I think we should discuss not only the word like, "King," but also all of the words we just had performed. I remembered that we had discussed about the word "Aids" during the rehearsal and it was interesting to hear a story of it and how big this word is in Kenya. It was a little bit sad that we didn't share to the audience on the real day.
All in all, I really like it and feel so overwhelmed that I had a chance to participate and use my "Thai" in this kind of art. :D Oh, I also think that it was really amazing that there was a sign language in the performance. I like it a lot. ;)"
Lisa: "I think the concept for this project is really wonderful. Very simple yet very powerful. Language always fascinates me, it is what shapes us and shapes how we think and perceive the world, it is important to reflect on it and the similarities/differences between languages. I would say the night seemed more like a strong workshop. I think the engagement with the audience and the conversations were very strong. To really polish it and make it more powerful the group would just need maybe two more rehearsals and some variety in speech rhythm/speed/intensity etc. Something that was for sure talked about, but due to time constraints not executed as much as perhaps wanted. The variety and a more choreographed start could blend well and open up more possibilities for audience engagement. It is a great way to disassociate some intense feelings with word sand free them up perhaps, at least a little. Thank you very much to all, I really enjoyed the group of people and the experience!!"
On the Twenty-Somethingth Mile, 2005
Performance duration: 15 min
The Drawing Center for the "River to River" festival, NYC
Conceived and performed with performance artist Nao Bustamante. Music by Yoav Gal and a dancefilm by Evann Siebens. The program was organized by The Drawing Center for the River to River festival in downtown Manhattan. In addition ot the performance, the program included two video screenings by Shahzia Sikander and William Kentridge.
The performance included two songs and two love letters: Pearl, Conception/Mis, and Portal from the World of Awe: A Traveler's Journal.
Love Letters from a World of Awe Performance, 1997
One-person, multimedia performance, including love letters, slides, and song narrated by a single performer seated with her back to the audience.
The performance took place at the The American Living Room, an annual summer festival featuring new works by emerging artists held at HERE, NYC.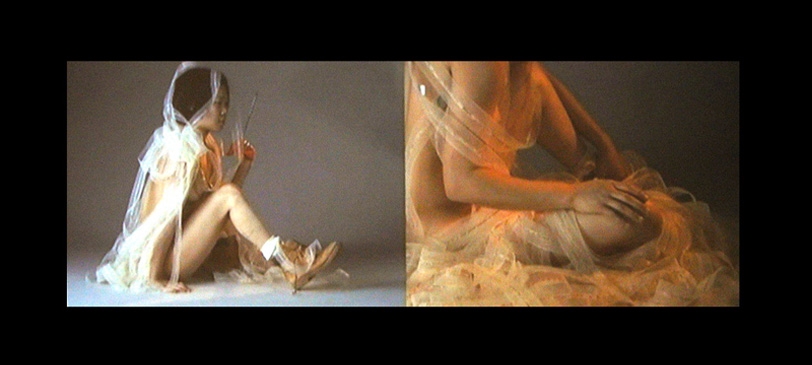 Schedule_Task, 2004
Video
2:31 Minutes
Edition of 6, 1 AP
Collection of CU Art Museum, University of Colorado at Boulder
This video artwork simulates a computer process called schedule task. The two screens alternate a simple action. On the left, the User wakes up from sleep mode and is ready for action, on the right, the User taps her knee while singing Ring of Fire by June Carter Cash. The video is a continuous loop.
Bit by Bit, Cell by Cell, 2005
Enhanced Music CD
Innova Recordings
This enhanced CD is the result of a collaboration between composer Yoav Gal and dance filmmaker Evann Siebens. Love letters and travelogs from the Traveler's Journal were set to music. Eleven music tracks alternate between a digitally manipulated soprano (Sarah Rivkin) and instrumental music composed for an Atari 800 XL. The CD is available on Amazon, iTunes, Innova recordings label, Eyebeam's bookstore, and soon here.
Love Letters from a World of Awe floppies, 1996
HTML files, jpgs and gifs on floppies
Mac, Netscape 3.0 + RealAudio player
PC native web browser
Edition unknown. A few are available.
World of Awe Mousepad, 2000
Mouspad
Designed for Rhizome circa 1998
+AND
Video documentation, video art, performance, an enhanced music album and other works that defy easy categorization.